Mortgages for the Self Employed
Your Edmonton Mortgage Broker: Natalie Wellings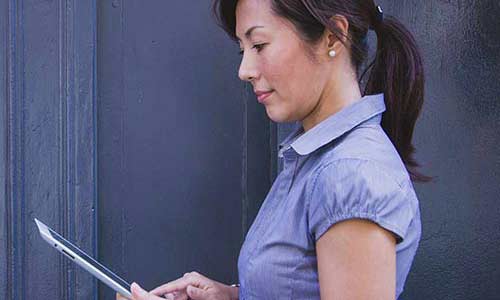 Small and medium-sized businesses are the engine of the economy in Alberta.
When it comes to mortgages, it hasn't always paid to be self-employed - because reducing your taxable income can make it difficult to qualify for the mortgage you deserve. A significant number of individuals working in Alberta are self employed, so I work on files for self employed individuals on a consistent basis. I have the expertise to help you navigate the additional paperwork required for self employed borrowers.
I completely understand that applying for a mortgage when you are self employed can be confusing, intimidating and scary. It doesn't have to be! I try to take the confusion out of obtaining a mortgage by explaining the process in clear terms and discussing any concerns I have with your application, in detail, upfront.
Be warned, when you are self employed, there is more paperwork involved than if you were an employee. But, as you already know, self employment comes with many pros, and cons too. While it may not be simple to get a mortgage, I hope to make the process as painless and stress free as I possibly can.
So, now that you've been warned, here's the 411 on what's involved in getting a mortgage when you are in business for yourself.
Essentially, there are two ways mortgage lenders view self employed income; via "proven income" or "stated income".
Proven income: this method is fairly straightforward. The mortgage lender will need to confirm that you have been in business for two years or more. This can be done in a variety of ways (by providing two years of business licenses, GST returns, Incorporation documents, employment letters if you are in a commission-only business such as real estate, car sales etc). The lender will review your income tax return for the last two years and will calculate your average income from line 150 on your Notice of Assessment. Some lenders will allow me to gross that income up by 15-25% to take into consideration some of the expenses you are able to write off in your business. Basically, as long as you meet all of the other typical requirements of getting a mortgage (credit, down payment) you're good to go! If you meet the guidelines and your income ratios are in line, you can purchase a home with a minimum down payment of 5%*.
Stated income: this is where things can get a little more confusing! Let's say you are self-employed and you've been in business for two years or more but you just don't show enough net income (on line 150 of your Notice of Assessment) to make your numbers work. This could be for a variety of reasons, usually accounting-related. I see this quite often with legitimate business owners; your company is making money but you show very little income on your personal tax return. If this is the case, and you have excellent credit and a down payment of at least 10%*, you may be eligible to obtain a mortgage via the stated income program offered by Sagen (formerly Genworth) or Canada Guaranty. Sagen's website explains that "the stated income program is designed for self-employed borrowers who are unable to provide traditional income verification but have a proven 2-year history of managing their credit and finances responsibly. Eligible borrowers typically own a small size business for a minimum of two years, which can be confirmed via a third-party arm's length document. In addition, the borrower is required to declare their annual income, which should be reasonable based on the industry, length of operation, and type of business." Confused yet? What does this all mean?
What it means is that you may be able to "state" your income instead of "proving" it via the line 150 on your Notice of Assessment.
Where this gets confusing is that the income "stated" must be reasonable for your industry and will need to be approved by your lender and insurer. What's considered "reasonable" often varies for different people, and organizations. Part of my job is to help navigate what income amount may be considered reasonable and submit your file to a lender stating your case in the most positive light possible.
The stated income program is more stringent than the proven income route and the following guidelines MUST apply for you to be considered for this program (from Genworth's website):
The income reported by the borrower must be reasonable based on the industry, length of operation and type of business

Strong credit profile with minimum 2 trade lines with at least two (2) years history
No mortgage, installment or revolving credit delinquencies appearing on the credit bureau in the past 12 months
No reported defaults on residential mortgages for the past 7 years
No previous bankruptcy
Minimum 10% down payment required (a minimum of 5% must be from the borrowers own savings. The remainder may be gifted from an immediate family member.)
Borrowed down payments are not permitted
Borrowers with commission income are ineligible
Lender to ensure borrower(s) have no tax arrears
Please contact me for more information regarding applying and receiving a mortgage when you are self employed!
PLEASE NOTE: I am paid by the mortgage lender, not you. So, it doesn't cost you a penny for my service, time and expertise! Like many other professional services (such as insurance brokers), Mortgage Brokers are generally paid a fee when we introduce trustworthy, dependable customers to a financial institution. These fees are standardized so the focus remains on you. There are very rare circumstances where a Mortgage Broker is not compensated by the lending institution for their work, such as arranging a private mortgage. This is extremely rare and if it applied to you, you would be notified well in advance that there would be a fee associated with arranging your mortgage. Again, this is extremely rare, and certainly not the norm.
*OAC. Program subject to change and/or cancellation at any time. These files are underwritten on a case-by-case basis. The underwriter may ask for additional documentation and/or a larger down payment depending on the specifics of your particular file.